Focus Series
FARO Focus Laser Scanners are specifically designed for both indoor and outdoor measurements in industries such as Architecture, Engineering, Construction, Public Safety and Forensics or Product Design. All devices capture real world information used in the digital world to analyze, collaborate and execute decisions to improve and maintain the overall project and product quality.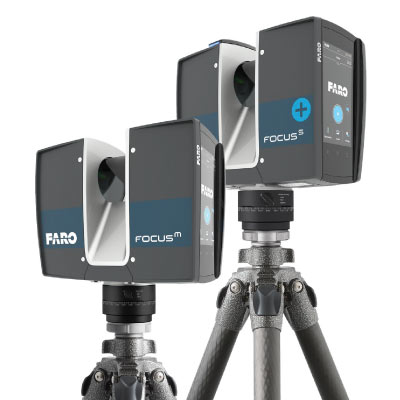 Focus M and S, Focus Plus S
3D Laser Scanner
The 360˚ Laser Scanner FocusS offers advanced functionality. In addition to increased distance, angular accuracy, and range, the FocusS scanners' on-site compensation function ensures high-quality measurements, while external accessory bays and HDR functionality make the scanner extremely flexible. With scanning range in radius of 70m, 150m and 350m Focus series can handle most of scanning challenges.
With special Focus S Automation series you can perform scaning from moving vehicles such as cars and drones.
In combination with Faro SCENE software, Focus represents an extremely powerful scanning and evaluations system.